Denver Destinations – Best Tours Near Denver
Located just outside of Denver, Red Rocks Park is a unique landscape filled with towering sandstone formations. Read Denver Destinations.
Denver is the largest city in the Rocky Mountains region and a popular tourist destination for those who want to explore some of the most beautiful natural attractions in the United States.
The city is also surrounded by national parks and villages that give a great insight into Colorado's history and culture and provide a great opportunity for breathtaking scenery. If you want to spend some time outside of the big city, day trips to these areas can be very beneficial.
Denver destinations
Located just outside of Denver, Red Rocks Park is a unique landscape filled with towering sandstone formations. Take a breathtaking trip to the United States around Colorado to discover the incredible nature of the Rocky Mountains.
Denver tours are recommended for lovers of the great outdoor activities, for those who will be eager to discover the most hidden faces of the American West, in particular the Grand Teton, Yellowstone, Monument Valley, and Canyon de Chelly national parks. A real plunge into the North American cultural space and its Indian roots with the magnificent landscapes of the Rockies as a backdrop, where you will have the opportunity to cross Route 66 which is an emblematic road of the United States.
The large park is listed as a National Historic Landmark in the United States and welcomes thousands of visitors every year. This park is full of more wildlife and breathtaking views than most people see in an entire lifetime.
1. Enjoy Live Music at Red Rocks Park & Amphitheater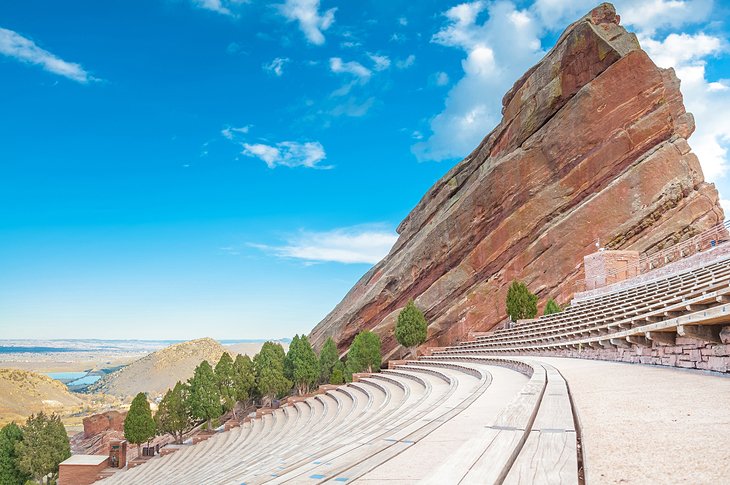 Red Rocks Park & Amphitheater is about 15 miles from the city center but is well worth the commute as this is the most revered attraction around Denver – and there is a shuttle to get you here should you not have a car. Red Rocks is both a live music venue and a city park owned by Denver. The name comes from the striking red sandstone rock formations found along the trails that also form the walls of the outdoor amphitheater.
The venue attracts major live music talent weekly in season and is most famous for its acoustics. Music buffs will want to stop by the Colorado Music Hall of Fame, which tells the stories of Colorado's music greats.
2. Denver Museum of Nature & Science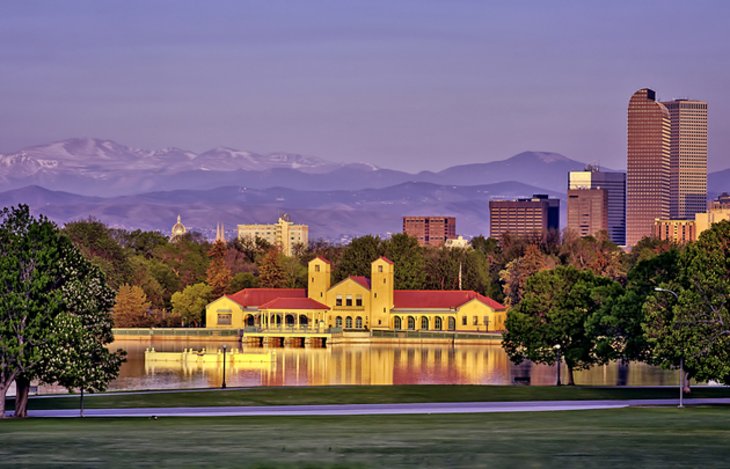 The Denver Museum of Nature and Science sits in City Park's southeast corner and is one of Denver's top cultural attractions. Among the most notable exhibits are the imposing dinosaur skeletons, remains of Ice Age animals, the collection of minerals presented by the Coors family, and one of the largest nuggets of gold found in Colorado.
The museum features changing exhibitions, so there is always something new to see. An IMAX theater and a Planetarium are also on-site. When you've finished wandering this museum, take time to check out City Park, which is popular with locals, and hosts a free summer jazz concert series.
3. See a Show at the Denver Center for the Performing Arts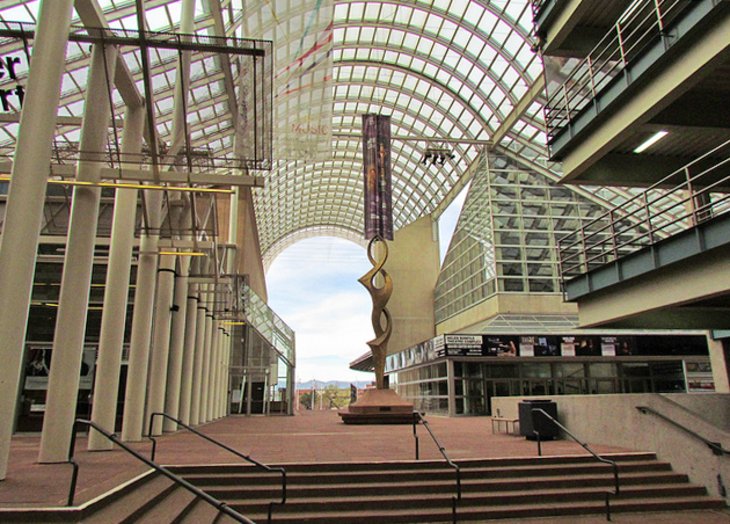 The Denver Center for the Performing Arts sits on the south side of Larimar Square and is a gigantic cultural center. The center consists of multiple venues, including the Boettcher Concert Hall, Auditorium Theater, and Ellie Caulkins Opera House. If you are looking for things to do in Denver at night, you can usually find something to entertain you here.
A night out at the Center for Performing Arts could mean watching a Broadway Show or enjoying a play or a variety of other performances. This venue hosts all kinds of major events. It is home to the Denver Center Theater Company, the Denver Center Attractions, and the Denver Center Theatre Academy. The center also functions as an educational facility, offering acting classes and programs, as well as professional development opportunities.
Address: Speer Boulevard and Arapahoe Street, Denver, Colorado
4. Denver Botanic Gardens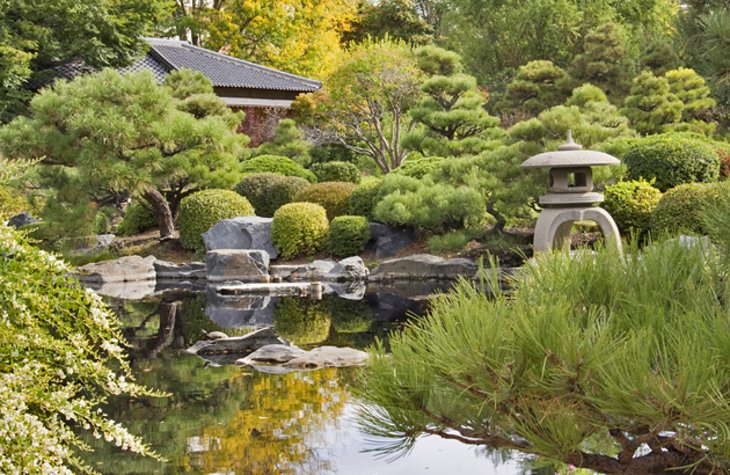 The Denver Botanic Gardens, first laid out in the late 1950s, is one of the largest botanical gardens in the United States, occupying 23 acres next to Cheesman Park. The garden emphasizes native plants and sustainable, environmentally responsible practices. However, the various gardens display plants from all over the world. There are 43 individual gardens, some of which are laid out in natural landscapes, others of which are in more formal gardens.
Some of the highlights include the Japanese Garden; Marnie's Pavilion with orchids, ferns, and waterfalls; and the Boettcher Memorial Conservatory, with exotic tropical and subtropical species. The Denver Botanic Gardens also hosts special events throughout the year, including concerts that draw in nationally recognized talent.
5. Kirkland Museum of Fine & Decorative Art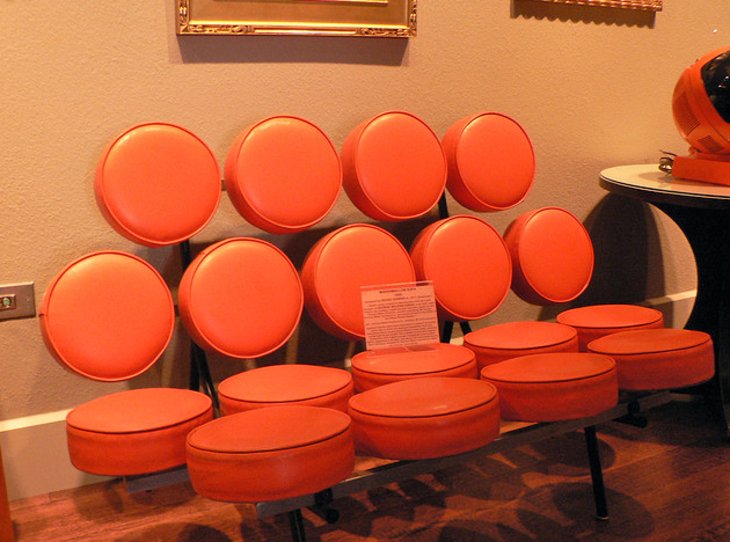 Kirkland Museum displays a major collection of decorative art from 1880 to 1980. Every major design period is represented, from Arts & Crafts to Pop Art. Regional modernist art, from 1875 to 1980, with a focus on Colorado, is also documented with hundreds of works.
The museum features a retrospective of Colorado's distinguished painter, Vance Kirkland (1904-1981). All three collections are housed in a 1911 Arts & Crafts building, the oldest commercial art building in Denver. Kirkland Museum is a member of Historic Artists' Homes and Studios, a program of the National Trust for Historic Preservation.
Book tours near Denver
With our experienced guides and quality service, we are ready to help you to get the best tours in Denver. Visit our website https://denver-tour.com and check fascinating daily and private tours for suitable dates. No matter which tour you choose, we are sure that you will have an unforgettable journey near Denver.